Authors:
Richard Anderson
Posted
: Mon, September 23, 2013 - 10:30:36
---
Increasingly, patients are making invaluable contributions to the redesign of our broken healthcare system and the patient experience. Designers working in healthcare should be aware of and leverage these contributions.
Among the facilitators of this is Medicine X, a fabulous conference held annually in September at Stanford University. As stated by the conference organizers:
Medicine X aims to bring together the best and brightest doctors, patients, academics, and industry leaders to talk about emerging technologies and how best to improve healthcare.

We seek to empower patients and give them a louder voice in healthcare discussions.

...patients are a core set of stakeholders. Yet they typically haven't been meaningfully represented and engaged at academic medical conferences. We want to change that.
To fulfill this goal, Medicine X invites select ePatient scholar applicants to attend the conference and some ePatient scholars to participate in the conference organizational and planning process. What is an ePatient scholar?
ePatient scholar: 1. A specialist and expert who is highly educated in his or her own medical conditions and who uses information technologies (e.g., Internet tools, social networks, self-tracking tools) in managing their health, learning from and teaching others. 2. (Stanford Medicine X ePatient scholar) An educator and role model for other patients and health care stakeholders.
A valuable contribution provided by all of the ePatient scholars (and many, many other patients) is the story of their patient experience. Many of these stories are gripping, documenting much of what is wrong with healthcare and suggesting fixes. Some stories can be found in blogs; some stories can be found in online patient communities. During Medicine X, some stories are shared on stage. An example is that provided by Britt Johnson (pictured below) at last year's conference; the video of Britt's talk is essential viewing.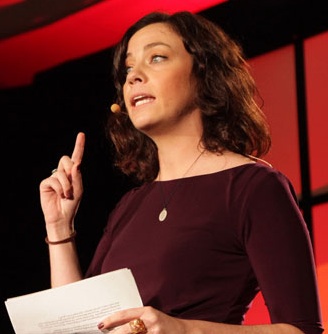 Britt Johnson
EPatient scholars' patient experiences form the basis of and provide the motivation for many of their additional contributions.
Two misdiagnoses and the urgent implant of a cardiac defibrillator made Hugo Campos realize how crucial it is for patients to engage in healthcare decision making with clinicians. This has prompted Hugo to tirelessly advocate for the rights of patients with pacemakers and implantable defibrillators to gain electronic access to the data collected by their electronic devices. Difficulty obtaining all sorts of medical records has led many to join Hugo in the call of "Give us our damn data."
Unable to get a satisfactory response from doctors to her multi-year digestive problems, Katie McCurdy applied her design skills to the construction of a visual timeline of her symptoms and medical history. Katie's hope was that this timeline would communicate much more and more effectively than medical records or her usually rushed oral description in a doctor's office, and she has had some success with it. Wouldn't it be nice if such visual timelines could be created by or for other patients?
Important input to such a timeline might come from Symple, an app developed by ePatient scholar Natasha Gajewski for tracking symptoms. Natasha built this app because of the difficulty she had tracking the symptoms of her rare autoimmune disease between doctor's office visits. Symple is now used by tens of thousands of patients around the world.
Sean Ahrens (pictured below) is among the ePatient scholars who have made valuable contributions to what is increasingly referred to as peer-to-peer healthcare. Because of his and others' similar health needs, Sean designed and developed Crohnology.com, a social health network for patients with Crohn's, colitis, and other inflammatory bowel conditions. Crohnology.com lets patients share and learn what treatments work for others, track their health, and meet others near them. As stated in a recent MIT Technology Review article, "The site is at the vanguard of the growing 'e-patient' movement that is letting patients take control over their health decisions—and behavior—in ways that could fundamentally change the economics of health care."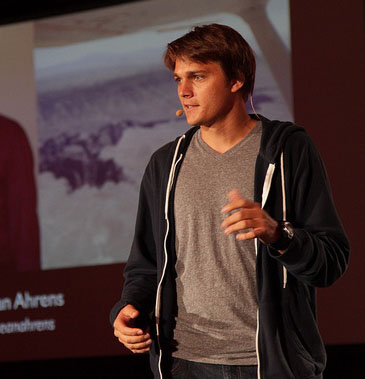 Sean Ahrens
Many ePatient scholars help patients connect in other ways. Tweetchats are particularly popular. Three-time cancer survivor Alicia Staley's weekly tweetchat for the breast cancer community (#BCSM) is perhaps the best known of these. Alicia started this tweetchat to combat the extreme isolation she experienced. (To get a better sense of the importance of such connecting, see Katie McCurdy's blog post, "On Speaking Up.")
ePatient scholars share their insights in multiple ways. The contributions of the most well-known ePatient, Dave deBronkart—a.k.a. e-Patient Dave—have included a TEDx talk and an ebook entitled Let Patients Help.
Many share their insights via blogs. Katie McCurdy's blog, referenced above, is filled with gems. See her recent analysis of the use of the term "patient engagement" for another great post. Carolyn Thomas's great blog includes a related post. Sarah Kucharski, founder of FMD (FirbroMuscular Dysplasia) Chat , is another excellent blog writer; her recent post on patient engagement provides important advice to designers of health apps.
Advice to designers is among the contributions I have made. As you might know from my interactions magazine blog posts alone, my writing and speaking on healthcare system and patient experience redesign have been focused, in part, on identifying what designers need to do in order to have maximum impact on that redesign. See, for example, "Are You Trying to Solve the Right Problem?," "What Designers Need to Know/Do to Help Transform Healthcare," "The Importance of the Social to Achieving the Personal," and the blog post you are now reading.
In short, there is much to learn from ePatient scholars, and you can learn more from and about most of those highlighted above as well as the other ePatient scholars attending Medicine X this year by accessing the 2013 ePatient ebook put together by the conference organizers. Use this ebook (and this blog post) as starting points to include the oft-missing voice in the redesign of healthcare and the patient experience: that of the patient. Better yet: Come meet us all at the conference September 27-29; we'll be happy to talk to you.
Richard Anderson is a consultant and instructor who can be followed on Twitter at @Riander.
---
Posted in: on Mon, September 23, 2013 - 10:30:36
Richard Anderson