Stratum: Selfhood in the Digital World
Issue: XXX.3 May + June 2023
Page: 16
Digital Citation

---
Authors:
Chari Glogovac-Smith

---
Stratum is an intermedia movement-based performance work that explores selfhood and the human condition in a post-human digital society. Using video projections, immersive sound, 3D animation, and green screen technology, Stratum invokes the dynamics between presence and being present, between here and somewhere, and between self and selfhood.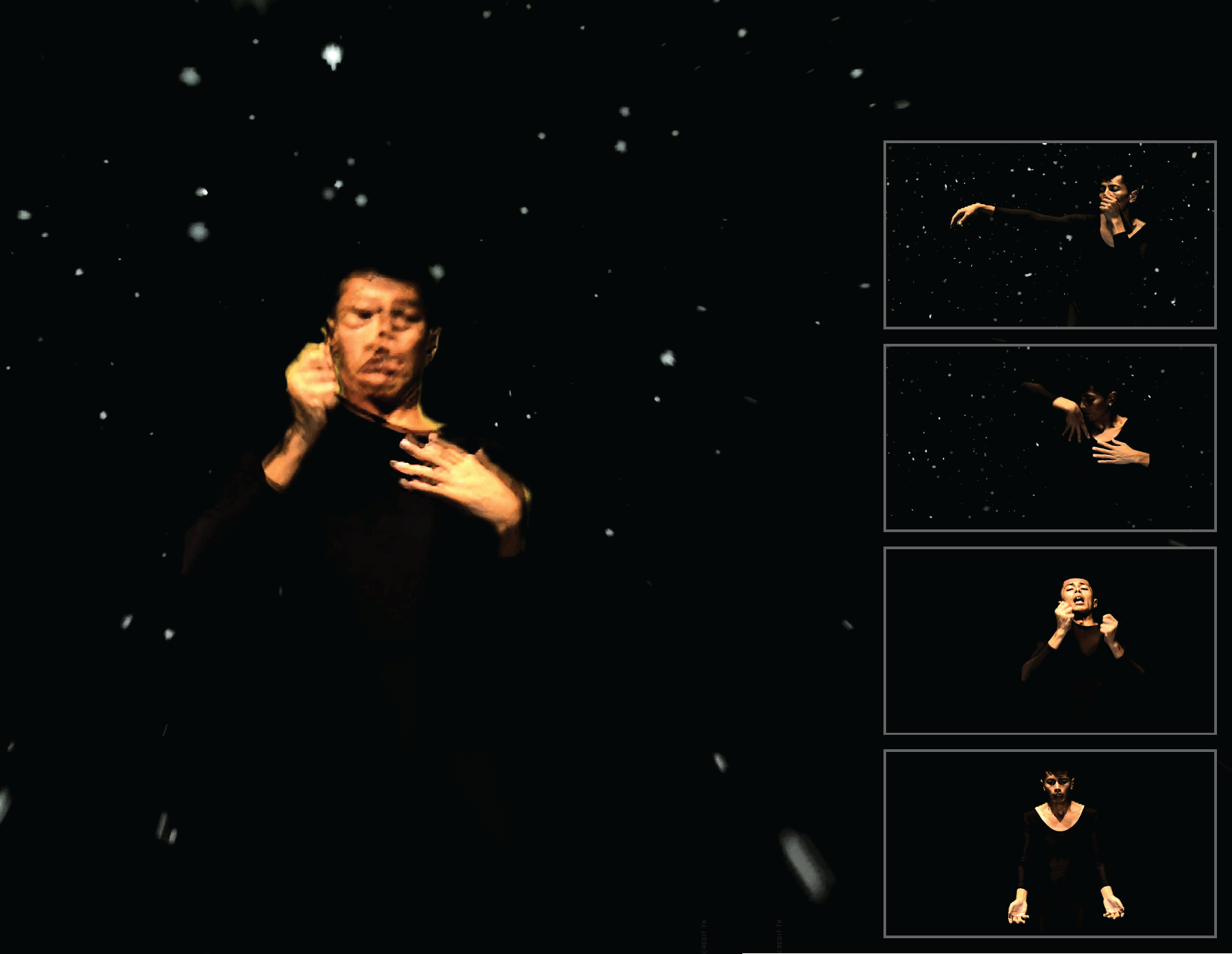 The first iteration, a 10-minute piece featuring a solo dance performance by Gary Champi (shown here), debuted at On the Boards in Seattle in 2022. The projections were composed by filming Champi in advance in front of a green screen and then integrating the footage into a world created with 3D animation. Champi's movements were synced with the projections to create a duplicitous effect. In addition to the new media areas of exploration, we were also interested in investigating traditional performer-audience dynamics and experimented with breaking the fourth wall by extending the "stage" into the audience.
The project originated as a part of a performance residency at On the Boards called Blackbox Weathermxn. The premise was to reinterpret and envision the technology, structure, and compositions most often used in weather forecasting as a creative framework for the realization of the performance work. Our approach created a conversation between abstract suggestions of self-realization and the dynamics of unsettled and changing weather, metaphorically and creatively.
This was the first time Glogovac-Smith and Champi worked with green screens and cameras in a live performance setting. During the residency, they grew into an efficient and focused team with a clear vision.
  Acknowledgments
Acknowledgments We would like to thank On the Boards and the panelists for Black Box Weatherxan for allowing us to realize this work.
  Author
Chari Glogovac-Smith is an Emmy-nominated composer, performer, and intermedia artist. Using an evolving mixture of traditional and experimental techniques, they dynamically explore and illustrate various counterpoints between the human experience and society. Their recent works have posed questions about empathy, conflict, landscapes and cultural connections, the archive, social justice, healing, listening, and time. [email protected]
Copyright held by author
The Digital Library is published by the Association for Computing Machinery. Copyright © 2023 ACM, Inc.