Authors:
David Fore
Posted
: Fri, September 05, 2014 - 1:00:56
---
Interaction designers sure can take things personally. When our behavior is driven by ego, this habit can be annoying. All that huffing and puffing during design crits! But when it springs from empathy for those our designs are meant to serve, then this signal attitude can yield dividends for all.
Nowhere are these sensitivities more critical to success—or more knotty—than when we confront systems whose complexity is alternately big, hairy, and wicked, and where making a positive impact with design can feel like pushing a rope.
I learned this again (apparently you can't learn it too often) while leading design at Collaborative Chronic Care Network (C3N). Funded by a landmark grant from National Institutes of Health (NIH), C3N has spent nearly five years cultivating a novel learning health system, one that joins health-seekers and their families, their healthcare providers, and researchers in common cause around improving care.
The past few years have been filled with front-page stories about the difficulties of changing healthcare for the better… or even to determine if what you've done is for the better. To hedge such risks from the start, C3N adopted interaction design methods to enhance understanding of and empathy for all system participants: pediatric patients, their caregivers, and researchers alike. Not a panacea, to be sure, but still a step in the right direction.
This initiative has led me to a deep appreciation for the value of three publications—two new ones and a neglected classic—that offer methods, insight, and counter-intuitive wisdom for those whose job it is to design for systems.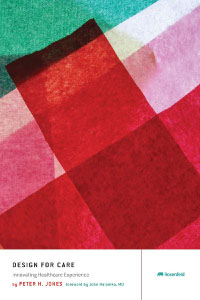 Few people know this terrain better than Peter Jones. He wrote Design for Care on the Internet, sharing his steady progress on concepts and chapters with a broad swath of the interaction design community. The result is a densely packed yet accessible book with a strong narrative backbone that demonstrates a wide range of ways multidisciplinary teams and organizations have designed for healthcare environments.
Jones uses theory, story, and principles to demonstrate how designers and their collaborators are trying to change how healthcare is delivered and experienced. Practicing and teaching out of Toronto, Jones has great familiarity with the Canadian healthcare system as well as the US model, which means that readers are permitted to see how similar cultures get very different outcomes.
He also makes a convincing argument that designers have an opportunity—an obligation even—to listen for and respond to a "call to care." Otherwise, he observes, our collaborators—the ones with skin in the game—will find it difficult to take our contributions seriously. After all, a cancer patient seeking health or an oncology nurse running a clinical quality-improvement program need to know you care enough to stick around and see things through.
The depths of this book's research, the clarity of its prose and schematics, and the methods it offers can help designers take advantage of an historic opportunity to improve the healthcare sector. I expect Design for Care to be an evergreen title, used by students, teachers, and practitioners for years to come.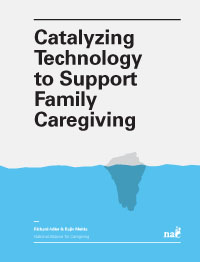 Every designer I've worked with, without exception, loves doing field research. It might begin as a desire to get out from behind their pixel machines. But they always come back to the studio ready to blow away old ways of thinking.
The fruit of qualitative research not only improve designs, but it also equips designers with invaluable insight and information when negotiating with product managers, developers, and executives.
And what do they find out there among the masses?
People are struggling to realize their goals amidst the whirling blades of systems not designed for their benefit. That's why it's so valuable (and challenging) to spend time with folks at factories, agricultural facilities, hospitals, or wherever your designs will be encountered.
But what if you can't get out into the field? How do you make sure that your nicely designed product is going to be useful. In other words, how do stop yourself from the perfect execution of the wrong thing? A new whitepaper from the National Alliance for Caregiving Caregiver's Alliance has some answers.
It is my burden to read a lot of healthcare papers. What helps the work of Richard Adler and Rajiv Mehta rise above the rest is how carefully they inflect their recommendations toward the sensibilities and needs of product designers and software developers. The authors are Silicon Valley veterans who place the problem into context, then make sure to draw a bright line from research to discovery to requirements.
Equipped with this report, designers are far more likely to create designs that serve the true needs of the people who have much to gain—and lose—during difficult life passages. It is filled with compelling qualitative research results and schematics and tables that shed light on the situations and needs of family caregivers.
Why is this important? Because these are family and community members—people like you and me—that constitute the unacknowledged backbone of the healthcare system. They are also, perhaps, the most overburdened, deserving, and underserved population in the field of design today.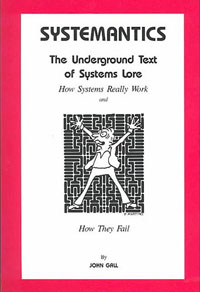 So now we're ready to redesign healthcare for good!
But wait a minute…
That's not just difficult, it's probably impossible. After all, we humans are exceptionally good at over-reaching, but less good at acknowledging the limits of what we can foresee. We want to change everything with a single swift and stroke, but typically that impulse leaves behind little else but blood on the floor.
John Gall, a physician and medical professor, observed that systems design is, by and large, a fool's errand. But even fools need errands, which is why he wrote the now-legendary SystemANTICS. Gall's perspective, stories, and axioms make this book a must-read, while his breezy writing style makes the book feel like beach reading.
But make no mistake: Gall has lived and worked in the trenches, and he knows of what he speaks. His work has had such a profound influence on systems thinking, in fact, that we now have Gall's Law: A complex system that works is invariably found to have evolved from a simple system that worked.
Others are similarly concise and useful, such as New systems mean new problems and A system design invariably grows to contain the known universe.
My favorite is this: People will do what they damn well please.
That last one comes from biology, of course, but it's true for human systems as well.
Gall implores you to acknowledge that people will use your systems and products in the strangest ways… and he will challenge you to do everything you can to anticipate some of those uses, and so build in resilience.
As design radically alters the rest of economy with compelling products and services, healthcare remains a holdout. The current system in whose grip we find ourselves appears designed to preserve privileges and perverse incentives that propagate waste at the expense of better outcomes for all. By protecting prerogatives of incumbent systems and business models, innovation is too often stifled. But if we put our minds and hearts to it, and we're aware of the pratfalls, we are more likely to push the rock up the hill at least another few inches.
---
Posted in: on Fri, September 05, 2014 - 1:00:56
David Fore

David Fore cut his teeth at Cooper, where he led the interaction design practice for many years. Then he went on to run Lybba, a healthcare nonprofit. Now he leads
Catabolic
, a product strategy and design consultancy. His aim with this blog is to share tools and ideas designers can use to make a difference in the world.
View All David Fore's Posts