Authors:
Vyom Anil
---
In October 2020, a case surfaced in Kinaru village of Muzaffarpur district, Bihar state, India: Reena Devi, a 20-year-old Dalit woman, recently widowed and the mother of two young children, had lost her Aadhaar number and was desperate to retrieve it. Like many others, Reena had no record of her Aadhaar number other than her Aadhaar card. And her card had been lost by an operator at an enrollment center after he took it from her to update her name and address. Her desperation was understandable. Without an Aadhaar, accessing any welfare scheme is impossible.
  Insights
→ The world's largest centralized biometric ID project (Aadhaar) lacks an effective grievance-redress system, with officials relying completely on guesswork and a corrupt ecosystem.
→ For those with a mobile number linked to Aadhaar, retrieving a lost number is just a matter of using the one-time-password-based online retrieval facility.
→ This is impossible, however, for a large section of underprivileged people whose lives depend on government welfare.
Reena could not recall her demographic details accurately and her Aadhaar number was not linked to any mobile number—she does not have a mobile phone—which made it very difficult to retrieve her Aadhaar number. When we met her, she was at a loss about what to do next.
We tried to help her, and after six months of running around, she was able to retrieve her Aadhaar number. Her ordeal became international news [1,2,3]. The founding director general of the Unique Identification Authority of India (UIDAI) had to write a response and accept the shortcomings of India's biometric identification system [4].
But not everyone is as lucky as Reena Devi; while following her case, we came across many other people who had lost their Aadhaar number and had no idea where to go for assistance. For them, the process of retrieving an Aadhaar number or rectifying an Aadhaar card inaccuracy is a mystery. Often, they lose hope of any redress and wait for years for a camp (temporary center set up to resolve people's Aadhar issues) or a competent person to appear and solve their problem.
This article explains our experience of engaging with the UIDAI and its impaneled agencies in our search for a lost Aadhaar number. For those with a mobile number linked to Aadhaar, retrieving a lost number is just a matter of using the one-time-password-based online retrieval facility. This is impossible, however, for a large section of underprivileged people whose lives depend on government welfare. The experience taught us some important lessons about Aadhaar's ecosystem.
  Local Assistance Facilities
On October 21, 2020, soon after learning about Reena's situation, we contacted the nearest Aadhaar enrollment center, at Uttar Bihar Gramin Bank situated at Turki block. The one-way fare to reach Turki from Kinaru for four people was 200 rupees—a lot of money for Reena, who lives on the brink of hunger. The journey was futile, though, since the person responsible for Aadhaar-related queries was away for training and would return only after the Dussehra holiday. Since Reena's case was unusual, the bank staff had no interest in providing any further assistance, except for the opinion that an Aadhaar number not linked to a mobile number is "impossible to retrieve." It was a discouraging situation, and many probably would have given up at this point, but we wanted to probe further and thus went to the block development officer (BDO).
The BDO did not want to entertain our case either. Looking at Reena's family, he said derisively, "Aadhaar kho gaya toh hum kya karein, ye log apna kagaz bhi nahi sambhal kar rakh sakte" (What can I do if the Aadhaar is lost? These people can't even keep their papers properly). He advised us to visit the District Registrar—cum—Counselling Centre (DRCC) in Muzaffarpur. He guessed that the DRCC had a way of retrieving a lost Aadhaar using biometrics and that it could be found within moments.
  DRCC and Post Office, Muzaffarpur
Pinning our hopes on the BDO's guess, on November 23, 2020, we went to Muzaffarpur. This time we made sure that no festival or any other celebrations fell near the day of our visit. We reached the DRCC office around noon but were stopped at the gate by the guard yelling at us, "Yahaan aadhaar ka koi kaam nahi hota hai" (No aadhaar-related work is done here). After much pleading we were allowed inside the office. The same words were hurled at us at the inquiry counter: "Yahaan aadhaar ka koi kaam nahi hota hai." Every official we met there had the same response. This led to much frustration, since the BDO in Turki had insisted that at the DRCC it would be just a matter of scanning biometrics to retrieve the lost Aadhaar.
After much struggle, we were able to find an Aadhaar Sampark Kendra (Aadhar Connection/Concern Center) in a corner of the DRCC building, but it was locked, with no one around to tell us when it would reopen nor any notice indicating when we should return. It was a dead end. With no idea where to go next, we sat on the lawn of the DRCC campus, where there were others who had come to the DRCC for paperwork. One of them was patient enough to hear our case and mentioned that the head post office at Company Bagh had an Aadhaar Sampark Kendra. Desperate for any lead, we made that our next destination.
We were relieved to find the Aadhaar Sampark Kendra open and people inquiring about their Aadhaar at the head post office. It was guarded by police personnel and only one person was allowed in at a time. We waited our turn. The employee inside sat with all the equipment—iris and fingerprint scanner, among others—that seemed to promise some solution to our problem. It was the first time since we had begun the journey to find Reena's Aadhaar that we had come across a functional enrollment center.
---
The employee inside sat with the equipment—iris and fingerprint scanner, among others—that seemed to promise some solution to our problem.
---
When we explained our problem to the employee, he immediately denied that there was any sort of Aadhaar retrieval process through biometrics only. He said he did not have the proper equipment for it and that we should go to Lalit Bhawan, Patna. This came as another shock in a series of shocks. It was not enough for us to have come to Muzaffarpur; now we had to go to Patna, which was impossible for Reena. We also met with the head postmaster in the hopes that an exception could be made for this case, but he refused to help, saying that the problem was beyond his ambit.
  UIDAI Helpline
Amid all this chaos, someone suggested calling the UIDAI helpline number (1947). We did not expect much from it, but to our surprise, the call connected immediately. The helpline operator was willing to help and only needed a little information—the beneficiary's name, address, PIN code, and date of birth—all exactly as recorded on Reena's lost Aadhaar card. We could furnish all the details, except for her date of birth. Reena could not recall the date recorded on her lost card. After several attempts to come up with the right date, we went to the home of Reena's mother, in Murra Manika village, in case someone there remembered it, but even her mother was not sure. Reena was in school when her Aadhaar was made and she did not remember the date that had been entered on her behalf.
We called the helpline again. This time the operator suggested we apply for a new Aadhaar number, saying that if Reena already had an Aadhaar number those details would pop up. How the old Aadhaar details would pop up, however, they had no idea—they assumed that an error message showing the way forward would be displayed. Relying on the helpline operator's assumption since there was no other option, we decided to apply for a new Aadhaar number.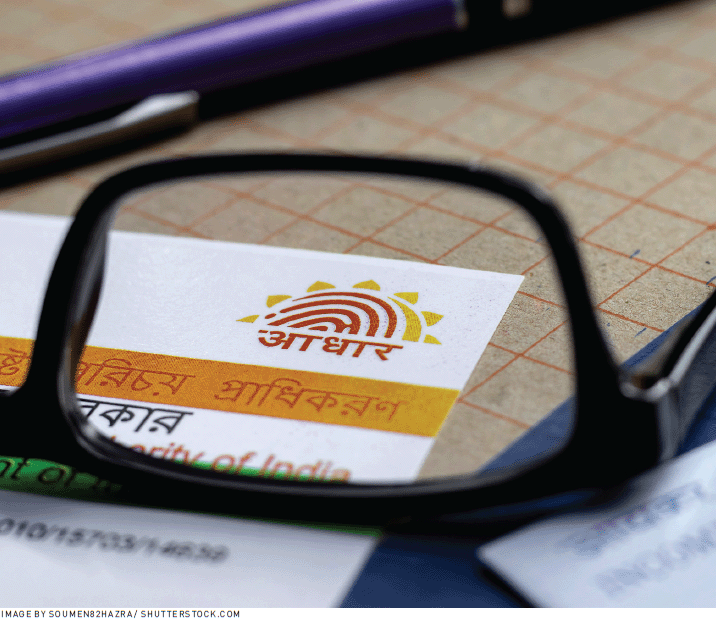 Fresh Application and the Woes of Enrollment Centers
In the absence of any documents to prove her identity and address, Reena had to download a form from the UIDAI website, fill in all the demographic details, and get it attested by a class-one gazetted officer in her district or village sarpanch. All this would have been virtually impossible for her to do on her own. She had already lost hope of retrieving her Aadhaar, but we wanted to try this method as well; with the help of a local representative from her village, we got Reena's proof of identity and address attested. After the identity and address verification, Reena was sure that a new Aadhaar card would be made. She had borrowed 500 rupees from her neighbor, anticipating the travel expenses she would incur.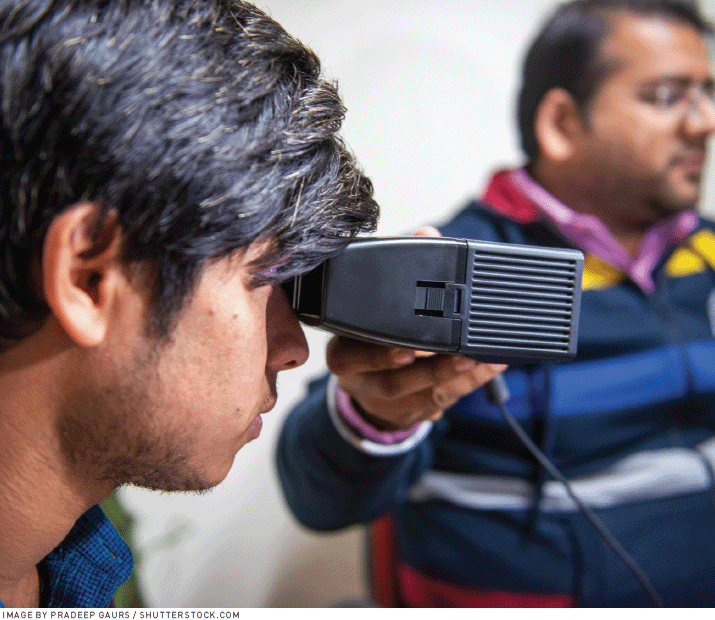 On December 3, along with a relative, Reena reached the State Bank of India in Mahant Maniyari, the nearest Aadhaar enrollment center to her village, at 10 a.m. sharp. There was already a long queue outside the bank. The Aadhaar card operator was sitting inside the bank, dealing with each query through a small window. There was a stall in front of the bank selling Aadhaar enrollment, correction, and update forms for 10 rupees each. We purchased one form and filled in all the details with the utmost care, attached the proof of identity and address forms (downloaded from UIDAI's website), and joined the queue.
There were posters and banners outside the operator's window indicating the documents required for updating, correcting, or enrolling in Aadhaar. But nowhere were the charges mentioned. For any type of correction, the operator at the counter charged 150 rupees, with no receipt. A person standing in line noticed that the charges were clearly stated at the bottom of the enrollment receipt: no charge for a new application, 50 rupees for a demographic update, and 100 rupees for a biometric update. When he tried speaking up, he was taken inside by the bank manager and asked to keep quiet; in return, his work was done free of charge.
Two hours passed, but the line did not move an inch. Everyone was losing patience. When one of us went inside to inquire about the reason for the delay, we saw a six-year-old boy trying to register his fingerprint to obtain an Aadhaar. They had tried all sorts of methods, including washing his hands, applying Vaseline, and taking finger impressions from different angles, but to no avail. His father said that the headmaster had asked for an Aadhaar number to secure his son's admission to the primary school. Outside the window, there were many such parents who had come with their kids to enroll in Aadhaar for admission to the school.
While in line we saw an elderly woman, around 70, leave the queue and go straight to the counter. She begged the operator to update her biometrics, as she had not received Public Distribution System (PDS) rations for the past two months. He dismissed her plea, however, saying that she could go to the block office for biometric updates. We could not understand the situation: The data operator is supposed to correct/update biometrics and the woman was willing to pay the required bribe, but he was still not interested. The woman said that her PDS dealer had denied her ration because her fingerprints did not match their records and wrote on her ration card, Aadhaar card update karwana hai (Aadhaar card needs to be updated). For the past two months she had been running around to get her biometrics updated, but no one anywhere was interested. The data operator had something else to say on the matter. He revealed that most of the time, biometrics work fine, but to siphon off rations the dealers lie to the beneficiaries: "Aap log padhe likhe hain, ye budhiya ko kya pata angutha sahi laga ki nahi" (You people are literate, how would this old woman know if her fingerprint matches correctly), he told us. We were not sure what to believe.
After much waiting, Reena's turn came. Looking at the identity form and proof of address (downloaded from UIDAI's website and attested by the village sarpanch), the operator said that it would not be accepted since the form was on black-and-white paper; it should have been attested on the colored paper sold outside the counter. We could not figure out the logic behind the difference between the black-and-white and colored forms. We did not want to go back for this petty reason after having come this far. Getting a new form, locating the village sarpanch, and obtaining his signature would take another week or two. After much pleading the data operator agreed, but with a warning that if the form was rejected it would not be his responsibility and no one should expect a refund from him.
  UIDAI Registrar, Patna
The fresh application made by Reena was rejected with the following cryptic message: "This enrolment has been rejected due to document related error." Not sure what to make of this error, I, along with a lawyer, visited Patna to meet the assistant director general (ADG) of UIDAI on February 26, 2021, expecting some concrete information.
Initially, the ADG was very confident that Reena's Aadhaar number could be searched for using her demographic details: name, father's name, address, and PIN code. Fortunately, we had these details. But despite that, the ADG could not find anything on Reena even after multiple attempts to search the database using different combinations of these attributes. Confused, he took a look at Reena's new Aadhaar application form and pointed out some minor errors due to which it was rejected; he recommended the same method that had been suggested by the UIDAI helpline—apply for a fresh Aadhaar and examine the rejection slip. He said that we could bring the slip to him, or even better, go to the regional office of UIDAI in Ranchi. That's more than 400 kilometers from Kinaru.
We were puzzled since Reena had already made a fresh application. We were told that the next reason for rejection would be something other than "document related error." We had gone through the woes of enrollment centers and wasted so much time and so many resources; a second new application would need to be made simply to get a different rejection message. Our patience wavered, but having come this far, we gathered our courage and restarted from step one: a new application.
---
The Kafkaesque situation we faced while searching for Reena Devi's Aadhaar number is one that many people with meager means face every day.
---
On March 19, 2021, the second application was rejected with the following error message: "Manual Dedup Process found this duplicate." This told us something we knew—that Reena already had an Aadhaar in her name—but gave us nothing on how to retrieve it. In the end, it was only through privileged access to a kind UIDAI official at the regional office in Ranchi that Reena's problem was solved. On April 7, 2021, using her latest enrollment and rejection slips, the official succeeded in retrieving Reena's lost Aadhaar number.
  Lessons Learned
The Kafkaesque situation we faced while searching for Reena Devi's Aadhaar number is one that many people with meager means face every day. It is not due to a random or unfortunate event, but rather to a serious flaw in Aadhaar's architecture. It is easy to retrieve a lost Aadhaar for someone with a linked mobile number. For others, the process can be unimaginably daunting. This experience taught us some important lessons about Aadhaar's biometric identity system.
First and foremost, people who lose their Aadhaar number and don't have adequate retrieval information are in big trouble. We had no information from any official sources as to what should be done in cases where someone doesn't have a linked mobile number and some demographic details are also missing. Everyone we met made a guess, and we had no other option but to follow their lead. Often, we received incorrect or contradictory information. For instance, the block development officer initially claimed it was impossible to retrieve Reena's Aadhaar number, and later that it would be easy to retrieve at the district level using her biometrics. One data operator claimed that retrieving Reena's number by making a fresh application would "work anywhere" for a bribe of 500 rupees. Even a query sent to the UIDAI under the Right to Information Act led to a circular response: "If mobile number and e-mail id are not registered with his/her Aadhaar, Resident can visit any Permanent Enrolment Centres for updation (mobile number and e-mail id)." Officials at the UIDAI office in Patna, guessed that submitting a new Aadhaar application, having it rejected, and contacting the regional office to retrieve the old Aadhaar number might work, and it did. However, the process is not spelled out anywhere by the UIDAI, officially or publicly, nor did the ADG in Patna know how the old Aadhaar number would pop up. Even for us, with our university degrees and fluent English, it took months to solve the problem—how are people like Reena supposed to manage?
Aadhaar's ecosystem is inefficient and corrupt. UIDAI has created a chaotic structure of registrars operating from central and state government offices, banks, and private enrollment centers, which are not directly responsible for Aadhaar but are impaneled with UIDAI through public-private partnerships with minimal accountability. This experience gave us a sobering view of the private agencies that deal with Aadhaar enrollment and updating at the local level in Bihar. Most are run by unaccountable data operators. Their misdeeds include overcharging for services, misplacing and irresponsible handling of important documents, and turning away poor people who have difficult queries. Reena's Aadhaar card was lost by an enrollment center when they took it from her to update her name and address after she got married. Reena's neighbor, Sita Devi, applied for Aadhaar for her kids at the nearest enrollment center and paid a bribe of 450 rupees. One year later she is still waiting for the Aadhaar numbers; meanwhile, her children are deprived of food rations from the PDS because their names cannot be added to her ration card without Aadhaar.
Another problem is the centralization of biometric data in the Central Identities Data Repository (CIDR), something repeatedly pointed out by researchers and activists (see [5,6,7,8,9]). Had Reena lost her voter ID, ration card, or even a smart card with locally stored biometrics [10], the problem could have been solved after a couple of visits to the block-level offices, despite the lackadaisical approach of the staff. The central control of biometric records made the process unnecessarily confusing and difficult.
We came across many people, some well educated, who were under the false impression that biometrics can be readily used for retrieving a lost Aadhaar number. According to them, it is just a matter of scanning fingerprints at an enrollment center. They are unaware of the fact that only regional UIDAI offices are able and authorized to search the biometric database. There are only 10 regional offices in India, with just one regional office at Ranchi for the entire states of Bihar and Jharkhand.
The magnitude of the wreckage caused in ordinary people's lives by this flawed UIDAI project has yet to be gauged. Reena Devi's story is not unusual. Over the past year, we have received several distress calls and emails from people who had lost their Aadhaar cards and were unable to retrieve them. One was a doctor from a Mohalla Clinic in Azadpur Mandi, Delhi, who had a long list of patients, mostly porters working in the mandi (marketplace), who were denied essential medicines, lab tests, or Covid vaccines for lack of Aadhaar. Some of these daily-wage workers I met had lost their Aadhaar card in unfortunate events like theft, burglary, or fire. Owing to the demands of their work, they had neither time to apply for a new Aadhaar nor access to any local representatives who might vouch for their identity and address.
The world's largest centralized biometric ID project lacks an effective grievance redress system, with officials relying completely on guesswork and a corrupt ecosystem. The retrieval method spelled out by the UIDAI website applies only to people with a registered phone number. The rest are at risk of being permanently deprived of all welfare benefits if they lose their Aadhaar number.
  Acknowledgments
The author is grateful to Jean Drèze and Reetika Khera for guidance and also to Mandesar Ram of Maniyari, Jagdish Majhi of Kinaru, and Md Feroz of Mahant Maniyari for their support with the search for Reena Devi's lost Aadhaar. Adv Vishal Kumar Singh, Patna High Court, and Dr. Sanjeet Sahoo from Delhi donated their valuable time to facilitate meetings in Patna and Delhi.
  References
1. Anil, V. and Drèze, J. Without Aadhaar, without identity. Indian Express. Jul 5, 2021; https://indianexpress.com/article/opinion/columns/flaw-in-aadhaar-architecture-uidai-card-enrolment-7389133/
2. Seeing like a state: India's high-tech governance risks leaving behind its poorest citizens. The Economist. Oct. 16, 2021.
3. Reddy, P. How does the Aadhaar grievance redressal system function—and why is UIDAI being opaque about it? Scroll.In. Jun. 4, 2022; https://scroll.in/article/1025446/uidai-refused-to-give-details-about-its-grievance-redressal-system-raising-questions-of-legality
4. Sharma, R.S., and Singh, A. P. Retrieving lost Aadhaar is challenging because of unfounded privacy concerns. Indian Express. Jul. 15, 2021; https://indianexpress.com/article/opinion/columns/aadhaar-india-privacy-7405078/
5. Ramanathan, U. A unique identity bill. Economic and Political Weekly 45, 30 (2010), 10–14.
6. Drèze, J. Hello Aadhaar, goodbye privacy. The Wire. Mar. 24, 2017; https://thewire.in/government/hello-aadhaar-goodbye-privacy
7. Divan, S. Aadhaar's biometric tsunami: Will it sweep away privacy, drown civil liberties? In Dissent on Aadhaar Big Data Meets Big Brother. R. Khera, ed. Orient Blackswan, 2019.
8. Khera, R. Introduction. In Dissent on Aadhaar Big Data Meets Big Brother. R. Khera, ed. Orient Blackswan, 2019.
9. Khera, R. Aadhaar: Uniquely Indian dystopia? Economic Sociology: European Electronic Newsletter 21, 1 (2019b); https://d-nb.info/1217712518/34
10. Abraham, S. Surveillance project. Frontline. Apr. 15, 2016; https://frontline.thehindu.com/cover-story/surveillance-project/article8408866.ece
  Author
Vyom Anil is an independent researcher focusing on the government welfare programs in rural areas of the state of Bihar, India. He has done his M.Phil. from the Centre of Social Medicine and Community Health (CSMCH), Jawaharlal Nehru University (JNU), New Delhi. [email protected]
Copyright held by author. Publication rights licensed to ACM.
The Digital Library is published by the Association for Computing Machinery. Copyright © 2023 ACM, Inc.