Authors:
Nick Butcher, Nadine Nakanishi, Maya Bird-Murphy
---
Contributors: Sonnenzimmer (Nick Butcher and Nadine Nakanishi) and Maya Bird-Murphy
Curator/Editor: Nia Easley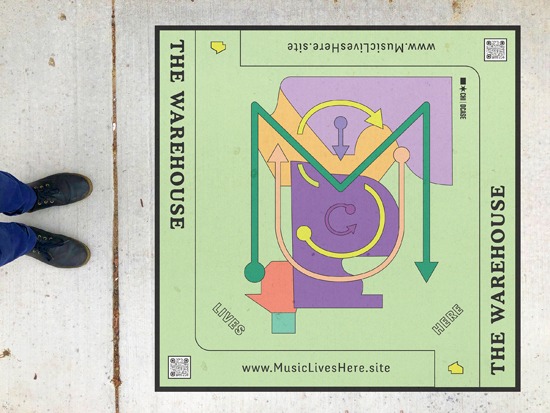 Music Lives Here is a public art project by Chicago graphic art studio Sonnenzimmer (Nick Butcher and Nadine Nakanishi) and Maya Bird-Murphy of Chicago Mobile Makers celebrating Chicago's musical legacy. The project was commissioned by the Chicago Department of Cultural Affairs and Special Events (DCASE) and coordinated by Director for Public Art Lydia Ross. It pays tribute to the spaces, places, and people that have shaped Chicago's music landscape, past and present, through 50 unique graphic Tribute Markers installed at sites across Chicago, a website (www.musicliveshere.site), and a printed guide. Look down, look up, take in, and explore the marvelous contributions to the local music history. Each Tribute Marker has a QR code that leads the curious explorer to the website, where they can discover more information about the sites from local music journalist Aaron Cohen.
The project invites further participation by means of a printed guide distributed to Chicago Public Library branches (also downloadable from the website), encouraging the public to let Chicago know where "Music Lives!" by making their own Tribute Markers.
Copyright held by authors
The Digital Library is published by the Association for Computing Machinery. Copyright © 2022 ACM, Inc.