Authors:
Julianna Kun
,
Nicholas Kun
Posted
: Tue, June 04, 2019 - 12:55:36
---
Hello! Our names are Julianna and Nicholas Kun. We went to CHI 2019 with our dad. We are 11 and 8 years old and would like to present to you a few impressions we got from the conference!
We really enjoyed the VR demos. One of them was a VR swing, where you were on a physical swing while wearing a VR headset. One of the VR worlds was called jellyfish. You swam in an ocean, and the faster your swing went, the faster you'd move in the simulated water. We thought that it would be cool if in the future you could use this technology to test an amusement park ride, to see if the ride was too extreme or too boring. Another VR demo we tried was a simulated museum. The simulation included physical objects we could touch, and a VR overlay we could see. We thought it was very realistic, and even looked like Glasgow's Kelvingrove museum that we visited just before seeing this demo. Will we be able to use this technology in a few years to bring museums to us, instead of having to go all the way to some place to see something? That would be exciting.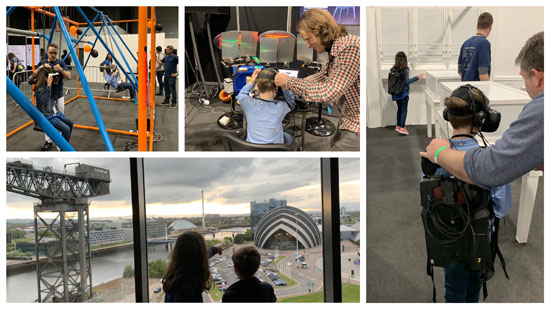 Figure 1. The two CHI-ldren, Julianna and Nicholas, swinging with VR headsets (top left), viewing museum artifacts in VR (right), and taking in the views of Glasgow at the TU Eindhoven CHI party (bottom left). Nicholas testing the VR fire experience (top middle).
Nicholas experienced yet another VR demo: Here your wand-controlled character had to escape from a burning building. This demo combined visuals with a simulation of heat from fires. This was done using heating elements and a fan. Nicholas's suggestion for improving realism in the next version: How about adding moving floor tiles to allow the user to walk or run?
After the demos, we went to a party. The food tasted very good, and that the atmosphere was very upbeat. Though the party still had to do with work, it was also a place for friendship and fun.
Overall, CHI was an awesome experience—we submit to you some pictures as additional evidence (Figure 1). We're glad that we went and cannot wait 'til next year!
---
Posted in: on Tue, June 04, 2019 - 12:55:36
Julianna Kun
Nicholas Kun