Authors:
Nova Ahmed
,
Rahat Jahangir Rony
,
Kimia Tuz Zaman
Posted
: Tue, April 28, 2020 - 9:57:47
---
What's going to happen to these garment workers? It was a question from my young colleagues Rahat and Kimia. We were working with garment workers in Bangladesh, where the garment sector is one of the leading economic sectors, with around 4 million workers involved in over 5,800 factories [1]. But it was more than work. During our qualitative studies in January and February 2020, we spent weekends with them in their houses. We heard about their dreams, hopes, and aspirations; their mundane days and their frustrations. If you are a qualitative researcher, you will know what this is like; for others, I want to say it is like we have brought parts of them—their feelings—back here with us. When the first Covid-19 patient was acknowledged in Bangladesh in March 2020, all we could think about was their congested houses, dense workplaces, and lack of savings for healthcare and emergency support.
Before going into their current concerns and design-related possibilities, we wanted to take you to them and into their houses, as shown in Figures 1 and 2. We talked to 55 garment workers in the urban areas of Mirpur within Dhaka city and the suburbs of Ashulia and Gazipur during January and February 2020. These workers are not living in the slums, but their houses were in areas with congested multistoried buildings, one very close to the other. Many of these buildings are not fully complete, often lacking paint and railings on staircases. Each floor of the building holds three to four rooms—sometimes five to six rooms—with a family living in each room. All of the houses we visited, however, had a very complete and elaborate kitchen and washroom, shared across families. Families live together with individual dreams and concerns, but with shared support for each other.


Figure 1. The surrounding area in Gazipur where many garment workers reside; our interview took place in rightmost corner space. February 2020.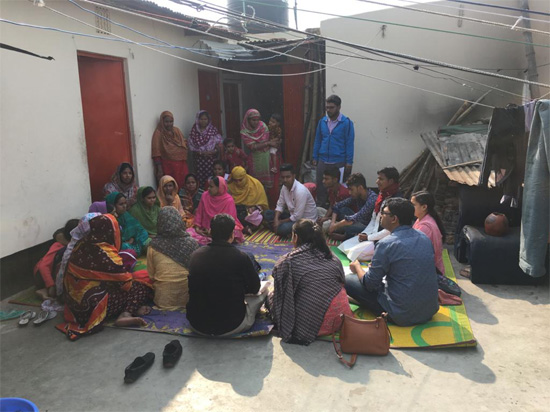 Figure 2. A discussion in Mirpur, Dhaka. February 2020.
Having had the critical experience of working with women before, we were expecting the struggles of female garment workers that are common in our region [2]. But the baseline employment scenario is different here—job security is higher for women in the garment industry (90 percent women [1]). The priority given to women shows up at home, where their stable jobs are accepted and their spouses take other responsibilities, many struggling to maintain a continuous flow of income. There were signs of blossoming equality starting in these homes.
It is a positive insight that women are more empowered in this sector and can play a significant role in families, but the picture is not so flowery when looking at the Covid-19 pandemic. This community does not save anything for their healthcare, investing more in children and at most in possibly buying a cow in the village, using their regular income to support their daily lives. Women work together in the shared kitchen, which is why the social distancing required for safety during Covid-19 does not make sense here under the current living conditions.
When the government-imposed lockdown started in Bangladesh in early April, all garment factories were closed immediately without providing wages. Though it was promised by the garment industry associations that all the workers would be paid their wages in a timely fashion, the reality is that very few factories paid their workers their full salary. Some of the workers we talked to previously reached out to us during the lockdown in Bangladesh, sharing their daily anxieties. They were staying in their residences, still waiting for the garment factories to reopen. We also have seen in the media that many garment workers gathered and protested for their wages during this lockdown period, without maintaining any kind of social distance.
Our ongoing support systems in Bangladesh are designed with a top-down approach—the solutions, helplines, and risk maps are generated by the authorities. There are also volunteers, foundations, and NGOs who work together or separately on support systems and fundraising, advertising heavily on web platforms and social media. However, the garment worker community are not exposed to the technology world, as they are busy with their laborious day jobs [2]. Listening to the workers, following up during the pandemic, it was clear that they wanted to speak, to share how they have been feeling. But there is no such platform to share their voices and feelings. If the garment workers need emergency support, it will be challenging for them because they do not know what support systems are available. There is support for people in extreme poverty as well as support for middle and upper-class people over technology platforms, but this community falls in between.
In Singapore, they tried to reduce infected patients by tracking the cellphones of infected residents and deploying quarantines by clustering the community around infected people. This technology is used by all citizens for healthcare purposes. That is how they can separate the infected community and provide better support. But the context in developing nations is different. Most of the people here are poor and require financial support and measures to ensure food security. Nationwide lockdowns cause scarcity in low-income communities. Additionally, these communities have less access to technology. The Ehsaas scheme (an SMS-based system) is a cash-collection system for the poor people of Pakistan, but now it is not feasible during this pandemic due to the lockdown. Thus, getting blessings from any deployed technology is a challenge.
But a problem can open up design opportunities—eventually leading us to the day when we have solutions that are inclusive, open, and supportive. We need a design that incorporates workers' voices to generate a support system. There will be varying requirements, where one person just wants to share their feelings with someone while others are looking for a way to secure food for the next month. There will be requirements for emotional support as well as support in finding a healthcare provider. Though all the workers we spoke with owned mobile phones, they have a distant relationship with mobile technology. The support elements are present but the connectors are missing. The current connections are one-directional—flowing from authorities toward the community. Most of the decisions depend on the authorities, which is why all communities are not treated equally. We need an easy-to-use interface that doesn't invade one's privacy, and that requires minimal technology access. It can be a phone number to call and share how one is feeling, or it can be a virtual contact online.
We understand that the aspirations of this community have been deeply affected by the uncertainties stemming from the lack of proper support. There is a burning requirement to incorporate a communication link from the garment worker community to the supporting authorities. We believe that the post-Covid-19 days should be our days of hope.
Endnotes
1. Islam, M.S. Ready-made garments exports earning and its contribution to economic growth in Bangladesh. GeoJournal (2020), 1–9.
2. Sambasivan, N. and Holbrook, J. Toward responsible AI for the next billion users. Interactions 26, 1 (2018), 68–71.
---
Posted in:
Covid-19
on Tue, April 28, 2020 - 9:57:47
Nova Ahmed
Rahat Jahangir Rony
Kimia Tuz Zaman