Authors:
Aaron Marcus
Posted
: Fri, March 25, 2016 - 11:04:27
---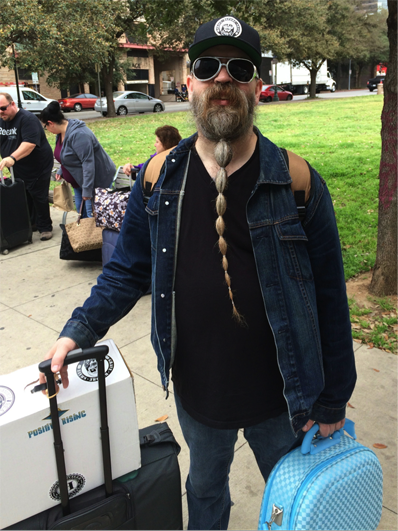 The characteristics that differentiate us human beings, and at the same time unite people from different regions of the world is a matter that fascinates me.
Recently, I had a half-hour journey to a nearby Austin, Texas, hot-rod show to entertain my grandchildren. On the way, to keep the grandchildren interested, I happened to search on my phone through the Internet for the world's longest beards and moustaches on men, and hair on women (about 18 feet long was the Guinness record for women, as I recall). We enjoyed looking at these hirsute oddities.
So, it was not without previous demonstration of interest that, just after I was dropped off by my son at a downtown stop to catch the No. 100 bus to the airport, a fellow came up to me and asked me if I was at the outbound stop headed to the airport or the inbound stop, because the inbound stop was just around the corner, and it was understandably confusing to a non-native. I could not help myself, and I immediately became social, extroverted, and interested in his unusual beard and his unusual subset of humanity. I complimented him on his outstanding growth and mentioned that I had just been searching the world for images of long beards and moustaches to show my grandchildren in Austin.
There began a 10-minute conversation with Patrick Dawson, of Seattle. He was just now returning after participating in the Annual Austin Men's Beard and Mustache Competition, which had taken place Saturday night. Had I only known! This was Patrick's second visit to Austin for purposes of this competition sponsored by the Austin Hair Club (!?) There were two competitions that day: the Open Competition, open to a maximum of about 250 competitors taking place at the Mohawk Arena. The Mohawk was filled to capacity with about 1000 people. The three top winners in their categories (goatees, beards, moustaches, mutton chops, etc.) compete in the evening competition, which features lots of booze and rowdiness. Patrick had won second place for goatees and first place for mustaches in the open competition and had placed first for "partial beards and goatees" in the evening competition. He had his precious trophy to prove his achievement in his carrying bag.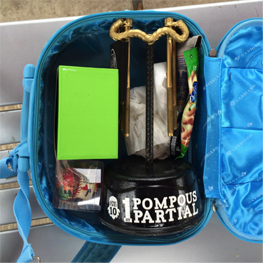 There is even a Women's Division competition, called the Whiskerina, featuring an award for the most creative strap-on beard made out of whatever the women-folk choose to use. I can imagine the creativity.
The Austin Facial Hair Competitions usually take place in February, for purposes of your future scheduling of, please note the exception for next year described below.
Patrick told me more during the half-hour sojourn to the Austin Airport: There is also a World Beard and Moustache Competition that takes place every two years. The last one took place on 3 October 2015 in Leogang, Austria, south of Salzburg (where I hope to be on 4 April at Persuasive Technology 2016 to give a conference tutorial about mobile persuasion design). Guess what? Patrick won first place for his goatee last year! Guess what again!? The next World Beard and Moustache Competition will take place Labor Day, Monday, 4 September 2017. Ladies and gentlemen, mark your calendars!
Patrick gave me permission to post and send his photo, and said he was very happy to participate in these competitions, which do not give money, just fame and honor, and raise money for worthy charities. He said the last one (perhaps he meant the one in Austin last weekend) raised $10,000. Not bad for some whiskers.
Well, I felt gloriously happy that I had been able to connect with him, learn these strange, exotic details, and enjoy my short time with him. His braided goatee made me nostalgically long for my 24-inch hair braid of the 1970s. Sigh…
Well, what did this teach me about user-experience design? First of all, that the exotic differences of human interests, preferences, expectations, values, signs, and rituals, is more fabulously complex than one could ever imagine. At the same time, it seemed heartening that people from all walks of life, all kinds of countries, and all kinds of cultures, could find shared enthusiasms and gather to honor the best of their breed or brood, while at the same time working toward humanitarian goals. It reinforced, for me, the necessity, if one is dedicated to "knowing thy user," to do thorough research in the target community, to develop adequate personas and use scenarios, to thoughtfully consider the language, concepts, images, and activities of these groups when seeking to develop outstanding user experiences.
---
Posted in: on Fri, March 25, 2016 - 11:04:27
Aaron Marcus