Authors:
Aaron Marcus
Posted
: Thu, October 24, 2013 - 12:04:00
---
In August 2011, I bought an Apple MacBook Pro. No surprise; we've been a devoted Apple customer since January 1985, as well as a vendor to Apple, and even a legal expert-witness defender of Apple in U.S. Patent Office matters.
What did surprise me was the horrendous experience of moving from OS 10.6 to 10.8, and the terrible service I received from the Apple Store in Emeryville, California, not too far from Apple's Cupertino headquarters... but I shall overlook the two to three months of pain following my Apple MacBook Pro purchase, when my productivity was reduced by at least 20% and perhaps 50% as I struggled with the changes in the operating system and had to pay about $1000 to a private technician just so I could do email and maintain my contacts and a calendar. You know, simple things.
Let me focus on the events following July 26, 2013 during routine email correspondence in my hotel room, with two more presentations to give at an international conference in Las Vegas, when my Apple MacBook Pro suddenly crashed—magnificently crashed. I mean, the entire machine was kaput, with the screen frozen with a two-inch vertical black bar in the center, and the rest of the former screen contents wrapped around the remaining areas of the right and left sides.
I tried several times and in several ways to revive my computer, in vain, and eventually I had to take it to the local Apple Store in the next hotel. Las Vegas hotels being gigantic barns for gambling, I had to walk for 30 minutes one way to get from the conference center of my hotel to the Apple store at the end of a labyrinthine route in the second hotel, the entrance to which was perhaps only 200 feet away! The Apple Store called me to say that the problem could probably be easily solved; they would merely have to wipe clean my hard drive containing the OS and reinstall the OS.
Naturally, I forbade that, because I did not have my Apple Time Machine working in Las Vegas, I had updated many files, and I feared the loss of much valuable data. I had to make four treks back and forth to that Apple store that day to drop off and retrieve my computer. At least I got some much-needed exercise walking briskly for two hours total!
Back in the San Francisco Bay Area, I began a two-month Apple customer experience of the worst kind. The Emeryville Apple Store wanted to see the machine and said that the problem could be solved by wiping the drive clean. I was reluctant to trust their technicians, whom they call by the hyperbolic and erroneous name "Geniuses," after my previous experiences with that store.
I took my computer to a Berkeley Apple Store, which also said that the drive needed to be wiped clean, but I had a chance to check on the contents of files and to retrieve other contents to the previous, older MacBook Pro from five years ago that I keep as a "spare" for just such purposes. I had learned that there was some "loose RAM" chips in my current computer that would be reseated and the problem would be fixed, after they sent my computer to Apple's repair center in Texas.
Imagine my surprise when, after getting back my "fixed" Apple MacBook Pro, the machine crashed with the very same problem I experienced a month earlier. This occurred while I was presenting at conferences and universities in Brazil. I did not even think about trying to get the computer fixed there, and limped along for a week using only my iPhone and some flash drives to make my presentations on local Macs, and being without easy email access for a week.
When I returned to the U.S., I finally convinced the Emeryville Apple Store in which I had bought this Lemon, I mean Apple, to simply give me another computer, because I still had a year's warranty on the product. I feared the replacement process because that store had demanded I return the original packaging when I first bought my computer. I had tossed the box and had to buy a second computer in order to replace the first computer originally purchased, which had not worked properly. In fact, they installed the wrong OS into my second computer, and the computer I had been using for almost two years was the third machine, just to be able to use an Apple Macintosh computer.
Fortunately, after hearing my tale, and running some diagnostics, which showed that indeed my computer was dead to the world, a technician at the original Apple Store from which I had purchased my product two years ago, agreed to give me a new computer and even to swap my old drive and DVD player into the new body, so I did not have to wipe, repair, and/or replace everything. Very kind. Finally, after seven trips to Apple Stores, one factory repair shop round trip, and perhaps many hours on the phone with two good technical representatives, I finally got the Apple Store to simply replace my Mac.
What surprised me in the end, was that this latest computer still had the same OS problems as the first machines: the date in the menu bar is still incorrect down below the top-level display. In addition, the Finder froze in some peculiar way and showed the application currently open, but could not open the Finder. Eventually, dialogue boxes became non-functional, and I had to "force" the machine to quit entirely. This behavior in a new machine made me exceedingly nervous.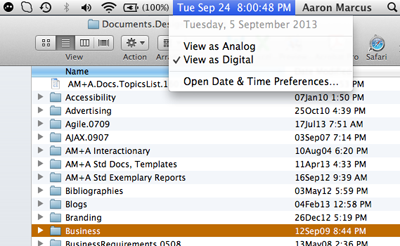 The screen capture shows the primary date/time widget at the top of every
screen indicating the correct date in the short form, but the incorrect date
in the long form. This bug also shows up in calendar depictions of Apple's
own software. The OS error cannot be eradicated by any simple adjustment
of the System Preferences controls or restarting the computer.
Frankly, I am aghast at the decline of Apple's software and hardware quality. As I mentioned, I have been a loyal Apple customer since 1985. My company once, in decades past, was called "The Design Police" for Apple's user-interface design. I have an iPhone and an iPad... yet now I cannot support Apple's brand as I did before. This is a sad state of affairs.
I have spoken with a number of other Apple customers, and they tell me the same thing. They can no longer depend on Apple's product quality. The grinning faces of Apple's leaders of software, industrial design, and business (e.g., CEO Tim Cook) stare out at me on the covers of Fast Company, Bloomberg Business Week, and other publications, all in one week, looking like the three monkeys who hear no evil, see no evil, speak no evil, of Apple—Mr. Cook in particular seems to be grinning hysterically. Perhaps they know the truth: Apple's products may be in swift decline. Perhaps Apple will go the way of Nokia and Blackberry, despite its arrogant posturing in the media.
I checked with Yelp about the Apple Stores. The reviews were mediocre. Complaints of lack of knowledge, arrogant and disrespectful people are numerous. Is this the brand Apple wants? Is this the brand that Apple deserves? Is this the brand that customers should expect?
My experience with Apple Stores has been, in general, so poor that I avoid going back whenever possible. I have to admit, sometimes I find someone who can quickly and effectively solve the situation. Alas, I have at times discovered the individuals are on loan from some other store, and I am likely not see them again, so no long-term relationship can be established.
To be fair, I want also to acknowledge a Mr. Adams in the Emeryville Apple Store and two phone reps, Ms. Cooke and Ms. Manyseng, specifically, as the three Apple people who took good care of me among the 10-15 people I had to deal with during two months of terrible frustration and much lost time. I estimate that I spent about 20-30 hours on the phone with the phone reps trying to solve the many idiosyncratic problems of restoring my Apple MacBook Pro to decent operation. Can this be economical for Apple?
There were Apple phone reps who hung up on me, who did not call back when they said they would, who gave me incorrect advice, and who made non-functional promises of a repaired Mac that would now work fine. Even Apple's own technical reps' software crashed during my conversations with these people. How often does this happen?
I do not consider myself unique in regard to my computer needs. I am perhaps a typical Apple customer with my own eccentric ways of doing things. Shouldn't the Apple Empire be able to accommodate me?
What a change of Apple's brand from what I remember from decades ago. No wonder Apple took out double-page meaningless, contentless ads (in my opinion) in the New York Times, Wall Street Journal, and perhaps other newspapers, proclaiming the value of "designed in California" (not even emphasizing "in the USA"), in a seemingly paranoid, nervous reaction to the development/pricing success of Samsung from South Korea and Xiomai and others from China. No wonder Apple executives may be looking over their shoulders nervously, and grinning hysterically in the news media.
What a change. What a company. What a false mythology of Steve Jobs. What a legacy.
---
Posted in: on Thu, October 24, 2013 - 12:04:00
Aaron Marcus