Authors:
Jeni Paay
---
Wine…makes most drinkers think
    — Plato, Cratylus, 388 BCE
  Insights
→ Making and drinking wine are important parts of our social, spiritual, and economic lives.
→ The wine industry is under threat from changing environmental conditions due to global warming.
→ HCI and AI can tackle the challenges and opportunities for enhancing wine consumption and supporting wine production for the future.
Wine has been an important part of people's ceremonial, spiritual, physical, and emotional sustenance for more than 8,000 years. Ideally, it will continue to be for many more—but the wine industry, like many others, is facing serious threat from irreversible environmental changes as a result of global warming. In response, the wine industry needs to change the way it does things and become resilient in the face of these changes, focusing on long-term sustainability and ecologically sound practices [1]. Additionally, the recent introduction of quality drinkable low-alcohol or de-alcoholized wines is supporting inclusivity for the industry by helping reach a larger market. A crucial question for HCI is: What are the opportunities and challenges for interaction design to help the wine industry ensure a future for making and drinking wine?
Digital technologies are providing new ways of doing things in an omnichannel approach across all phases of the wine life cycle, from grape growing and harvesting, through winemaking, packaging, and selling, to wine serving and consumption. This provides a plethora of opportunities for HCI to be involved in the design of these technologies, with a real potential for societal impact. Of course, AI techniques as a set of design and production processes and "materials" are also shaking the wine industry up. Industry protagonists are already saying that "within the next decade, artificial intelligence has the power to transform the wine industry forever…. According to a growing number of wine experts, AI could impact everything from how we buy wine, to how we grow vines in the vineyard, to how we judge wine" [2]. This is where HCI, UX, and interaction design can influence the impact that AI can and will have on this industry, by defining what AI means in the context of wine production and investigating relevant techniques and data sources to determine how best to provide the outcomes and experiences that growers, winemakers, and consumers are looking for. Interaction design can engage with AI practices in this industry to drive for holistic overall experiences that can be achieved by leveraging AI techniques in the wine production process. As interaction designers, we can ensure that digital solutions continue to support the art, craft, and science of wine.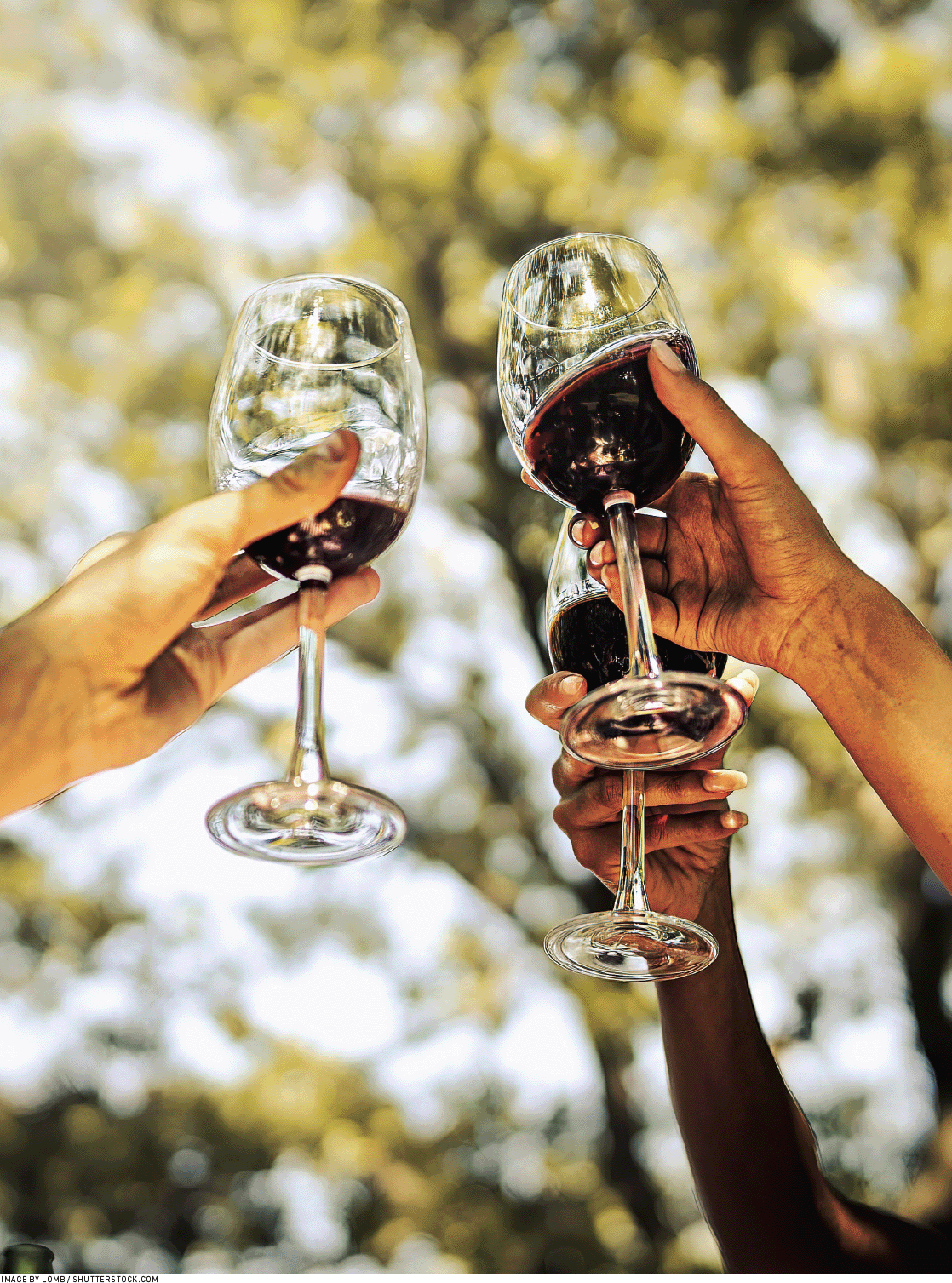 Over the past eight years, I have hosted a series of HCI conference workshops on interaction design and wine. We started with a focus on consumption, looking at the opportunities for interaction design to enhance the human experience of wine. Recently, we have turned our focus toward wine production and the design of technologies that help the wine industry become more sustainable, including emerging AI technologies that can extend production capabilities and enhance consumer experience. From these workshops, we identified ways for interaction design to provide positive user experiences in wine consumption, as well as to envision solutions to challenges in wine production.
| | |
| --- | --- |
| | OZCHI 2016 workshop participants listening to the winemaker, Marion Semmens (right), tell her story at Marion's Vineyard, Deviot, Tasmania. |
  Enhancing the Experience of Drinking Wine
Human-wine interaction goes beyond the value of simply dri6nking wine when it is combined with playful, celebratory, or informational interactive experiences. Interaction design offers opportunities for creating positive human-wine experiences. For many, wine feeds both body and soul [3] and is an important part of everyday life in countries with high wine consumption, such as Australia, the U.S., France, Italy, Germany, the U.K., China, and Russia. Wine can evoke feelings of passion, pleasure, escape, relaxation, or serenity. In addition to these ephemeral experiences, drinking red wine has been proven in studies to have practical health benefits with respect to reducing cholesterol, reducing formation of blood clots, and preventing artery damage when consumed in moderation, due to the abundance of antioxidants and resveratrol [4]. Alcohol-removed wines, also high in antioxidants and generally lower in calories, are an even healthier option that have experienced widespread popularity in recent years, as global health and wellness trends drive consumers toward healthier selections.
---
Interaction design can support, enhance, extend, augment, excite, and explore the sensual experience of wine and food through technologies that celebrate the activities of drinking and eating.
---
Drinking wine can be both very personal and a shared experience. Wine can be served at family gatherings and cultural events or integrated into religious ceremonies. Take a moment and imagine you're drinking a glass of wine and how it engages your senses. The experience of wine for most of us starts when we select the bottle. We admire the label, feel the weight and shape of the bottle, check that the grape variety aligns with our taste, read about provenance and year of production, and consider the reputation of the producer. We listen for the twist of metal cap or the pop of the cork and sniff for that first aroma signaling readiness for drinking. We hear the splashing sound as the wine is poured, feel the action of swirling it in the glass to assess color and texture, and then finally, if we have chosen well, enjoy the taste of it.
| | |
| --- | --- |
| | Top: Local and international HCI and UX academic and industry participants at the inaugural workshop, Wine and Interaction Design, at OZCHI 2016, at Marion's Vineyard, overlooking the Tamar River, Tasmania. Bottom: Discussions over lunch in the wine cellar at Pipers Brook Winery, Pipers Brook, Tasmania, at OZCHI 2016. |
Interaction design can support, enhance, extend, augment, excite, and explore the sensual experience of wine and food through technologies that celebrate the activities of drinking and eating [1]. Digital technology takes the wine drinker beyond simply sharing wine experiences on social media [4] to experiences that use QR codes to provide information to the wine buyer about the bottle they are holding; video projections on bar surfaces that give tasting notes and prices and guide wine drinkers through a personal tasting experience; and proximity and movement sensors that offer guided tours in wineries [5]. Wine apps on smartphones, such as Vivino (vivino.com) and Hello Vino (hellovino.com), offer assistance at the point of sale by providing information, prices, and user reviews about a wine through the use of label recognition. These apps also suggest food and wine pairings or wines for particular occasions.
This opens up a design space for exploring ways to revive, release, refocus, or reimagine drinking wine, but despite this, the innovative design of technologies to add value to drinking wine remains largely unexplored [4]. Opportunely, the addition of AI technology to apps has added a new dimension to the wine-buying experience with the personalized experience, giving recommendations of wines the consumer may enjoy. Tastry (tastry.com) is AI-driven technology that presents a virtual sommelier that will "taste" the wine for the user. Algorithms and machine learning use chemical analyses of wine properties to define characteristics of a wine, interpret them as flavor, and make recommendations on wines the user will like based on their taste profiles and preferences. HCI has an important role to play in the design of these AI-driven systems, as the human-computer interface needs to empower the user, while ensuring trust in the systems' choices and recommendations.
Opportunities and challenges for interaction design in consumption. So, what does this mean for interaction design at the consumer end of the wine life cycle? Now is the time for us to critically reevaluate what is technically possible and understand the ways in which AI can usefully expand the abilities of end-user systems. This will involve understanding the human experience of wine and the contexts in which it is purchased and consumed, and exploring ways to enhance or share activities and human experiences involved in wine consumption. We then need to ideate, prototype, and evaluate new products and services with the people who will be using them. The challenge is in using technology for good, by integrating sustainable practices into future designs and encouraging consumers to prioritize sustainable wines.
  Addressing the Challenges of Wine Production
Human appreciation of wine drives the need to preserve and grow the wine industry. However, climate change is challenging this by affecting the ability to cultivate the key ingredient of wine: grapes. Traditional grape-growing environments are changing to the extent that growers will need to change how and where they grow grapes in the future. Growing grapes for wine has been a human endeavor for more than 8,000 years; it is still an important part of the economy in Italy, Spain, France, the U.S., Australia, Chile, Argentina, South Africa, Germany, and Portugal, where the wine industries are key contributors to gross national product [4].
Achieving sustainability in the face of climate change is forcing grape growers to face new ecological challenges alongside economic and social concerns. Grape-growing conditions in different regions of the world are changing. Places that were ideal for growing grapes are seeing less rainfall or increased temperatures, making them unsuitable for the varieties traditionally grown. Grape growers need assistance in understanding how to adapt to these new conditions and how to manage their vineyards with available resources. Sustainable wineries need to practice water and energy conservation, use renewable power, and preserve existing ecosystems. Technology is already helping growers. Smart wireless sensor networks are providing temperature measurements and soil moisture readings at different points in the vineyard to send necessary information on microclimates to vineyard managers. These systems deliver relevant, timely, and comprehensive information that can support crop maintenance decisions [5]. Robots and drones in vineyards that report on vine and soil health provide feedback and images at different times of the day and cover distances that would be difficult for growers. Robots are also improving the cost effectiveness of growing by performing labor-intensive or repetitive tasks such as soil cultivation, weeding, and controlling the machine-picking of grapes. On the winemaking side, temperature and humidity influence the subjective taste of the wine, so the winemaker also needs detailed information about vineyard conditions [4].
Enter AI technologies, and the power to support wine growing rapidly expands into providing interpretive and predictive advice. Recent wine industry reports claim that AI will be critical in helping winemakers adjust to changing climate conditions. Emerging and experimental AI technologies are delivering climate forecasts and analyzing comparable grape-growing regions to recommend grape varieties to suit changing environments. AI-powered machines and sensors in the vineyards are reporting on current conditions, helping growers assess water needs and advising on how soil conditions need to be modified. Drones or vehicle-mounted systems with infrared thermal-imaging cameras are identifying which vines need water or are suffering from disease or pest infestations, alerting the vineyard manager and giving advice on how to deal with these problems [2,6].
---
Recent wine industry reports claim that AI will be critical in helping winemakers adjust to changing climate conditions.
---
AI also has the capacity to influence winemaking. In the future, AI could monitor the condition of the wine as it ferments and matures and make blending suggestions to the winemaker. An AI system analyzing data related to the aroma, flavor, and taste of the wine could identify patterns and provide insights that might be overlooked by the winemaker, providing comparisons between vintages to help the winemaker be more consistent with their wines [2]. However, some of us might consider the creative and intuitive decisions of the winemaker a vital part of the art of winemaking, that which gives wine a distinctive character and defines the identity of particular winemakers.
Opportunities and challenges for interaction design in production. Science is working on solutions, but science needs people and technology to activate these solutions for the wine industry. This interaction between people and technology gives HCI an opportunity to make a difference to the future of grape-growing and winemaking. Information collected in vineyards by smart devices needs to be tailored for different decision makers. Understanding the grape growers' challenges, what information is needed to make the right decisions for successful growing, and the context in which decisions are being made is an important part of the design process for HCI. Including AI in the mix gives interaction designers an opportunity to explore previously unimagined and otherwise impossible forms of interaction that increase industry resilience in the face of growing environmental challenges. With respect to winemaking, while AI can technically analyze wine properties such as aroma and flavor to provide historical comparisons and consistency, perhaps HCI should focus on designing technology solutions that augment the winemakers' creative processes, supporting the art of winemaking.
| | |
| --- | --- |
| | View of the vineyards at Jansz Tasmania, Pipers Brook, Tasmania, looking toward Emu Ground Reserve. |
  What Now?
AI-driven technologies are having and will continue to have an impact on the wine industry at all stages, from production to consumption. This presents a key opportunity for HCI to get involved now.
In the glass, the opportunities for increasing the user experience of buying and drinking wine include the following:
Smartphone apps that identify, inform, and advise on the current wine choice at the point of sale, including personal taste compatibility as assessed by AI, to enhance the tasting experience
Interactions with augmented and enhanced tangible elements of drinking, such as QR-coded bottles, sensor-tagged glasses, and countertop video projections, to delight, entertain, and inform the wine drinker
Illumination and illustration of sensual and scientific aspects of the wine during drinking
Supporting communication and sharing of drinking experiences and ceremonies with friends, family and community.
In the vineyard, the challenges of climate change for grape-growing and winemaking will benefit from the following:
Smart sensor systems that register, report, and advise on current environmental growing conditions to assist grape growers and winemakers in crop maintenance
AI systems that interpret current and historical climate and grape-growing data and forecast weather conditions to give advice on how to adapt to changing growing environments
Decision-making support for streamlining and adding sustainable practices to the harvesting, winemaking, bottling, and distribution processes
Digital designs for supporting, celebrating, and exhibiting the creative processes (art) of the winemaker.
As interaction designers, we have the opportunity to make human-wine interactions personally and socially satisfying as well as sustainable. We can design new technologies and AI systems for the wine industry that enhance people's experience of consuming wine while also addressing climate-related challenges faced in wine production. Ideally, research collaborations between HCI experts, wine scientists, the wine industry, grape growers, and winemakers will illuminate issues faced by different stakeholders and inform the design of systems that meet needs, as well as extend what is currently possible or known toward a resilient and sustainable wine future. We can leverage opportunities and overcome challenges toward ensuring that the art of the winemaker, the craft of wine fermentation, and the science of growing grapes can adapt and continue into the future, supporting the very human activities of making and drinking wine.
  References
1. Paay, J., Davis, H., Rivas, A.M., Rogers, Y., and Brereton, M. HCI supporting food and wine futures: Resilience through reflective practice. Proc. of the 35th Australian Conference on Human-Computer-Interaction. ACM, New York, 2023.
2. USA Wine Ratings. How AI will revolutionise the future of wine. May 2022; https://usawineratings.com/en/blog/insights-1/how-ai-will-revolutionize-the-future-of-wine-236.htm
3. Davis, H., Paay, J., Kjeldskov, J., and Dolejšová, M. On and off the table: Re-imagining food and wine interactions. Proc. of the 30th Australian Conference on Computer-Human Interaction. ACM, New York, 2018, 612–617; https://doi.org/10.1145/3292147.3293452
4. Paay, J., Engeler, B., Taylor, M., Day, K., Brereton, M., and Rogers, Y. Wine and user experience design. Proc. of the 31st Australian Conference on Human-Computer-Interaction. ACM, New York, 2019, 4–7; https://doi.org/10.1145/3369457.3369548
5. Paay, J., Robertson, T., Brereton, M., and Rogers, Y. Wine and interaction design. Proc. of the 28th Australian Conference on Computer-Human Interaction. ACM, New York, 2016, 668–671; https://doi.org/10.1145/3010915.3011865
6. Marr, B. The incredible ways the 4th Industrial Revolution and AI are changing winemaking. Forbes, Jul. 2019; https://www.forbes.com/sites/bernardmarr/2019/07/03/the-incredible-ways-the-4th-industrial-revolution-and-ai-are-changing-winemaking/?sh=6344cbe31f61
  Author
Jeni Paay is director of the Centre for Design Innovation at Swinburne University of Technology in Melbourne, Australia. She has a transdisciplinary background spanning architecture, computer science, and HCI. Her research areas include interaction design for mobiles, augmented reality and virtual reality, human-AI interaction, design for digital workspaces, and user experience design. [email protected]
Copyright held by author. Publication rights licensed to ACM.
The Digital Library is published by the Association for Computing Machinery. Copyright © 2023 ACM, Inc.